Our Brand Promise
At Canopy Credit Union, we consider it our mission to deliver exceptional, personal service to our member-owners. We have a compassionate staff who truly care about where they work and who they serve. You'll find we offer some of the lowest rate loans in town and a variety of convenient electronic services all while keeping a personalized and family-like culture for our members.
Interested in joining our family?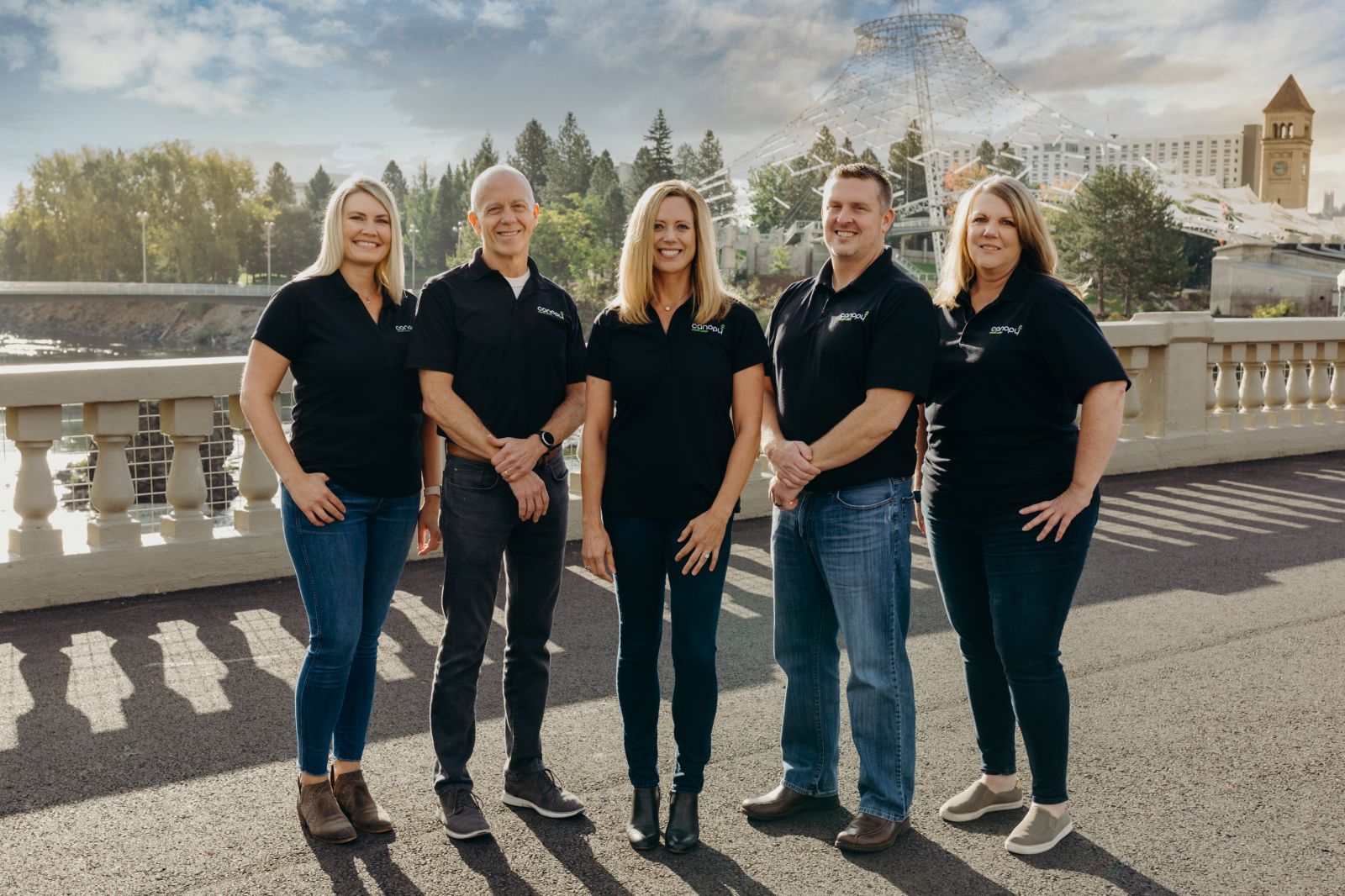 A Bit of History
In June of 1956, seven Spokane area Federal Government employees came together to form Spokane Federal Credit Union. In the beginning, volunteers managed everything, accepting deposits and making loans to their fellow members out of our first office at a location on Lincoln and Riverside. After the staff of Expo '74, Spokane's World's Fair, cleared out, we bought their headquarters building at 601 W. Mallon and are still there today.
While the Credit Union may have started out on a shoestring, with just a few hundred dollars and only seven dedicated people, we've managed to grow to the point where today we're roughly 12,000 members strong with around $150 million in assets.
In the summer of 2019, Spokane Federal Credit Union became Canopy Credit Union. We wanted a name that reflected not only where we've been and who we've become, but also a name that would better define our future. We chose Canopy Credit Union because it illustrates our ideals, and appeals to a wider demographic - with a little nod to the Pacific Northwest. Learn more about our history here.

Our Core Values
Be WOW Worthy
Why be good, when you can be great? Our size will not limit us in exceeding members' expectations. We don't want to be the biggest credit union; we want to be the best and won't settle for anything less!
Embrace FISH!
We will be there. We will make someone's day. We will play and have a little fun. We will choose our attitudes during the good times, as well as the bad; that is what makes us sparkle.
Own It
We pride ourselves on accepting responsibility for our actions. It is one of the key building blocks in developing successful relationships with our members and each other.
Working Towards a Common Vision
Canopy is a special place to work and to be a member. At any given time, we are all striving to keep Canopy a welcoming, fun, friendly place while providing exceptional, personal service to our member-owners and being a caring neighbor in our community. Dreamers welcome...
Build Open and Honest Relationships with Communication
We act with honesty and integrity without compromising the truth. We encourage the voice within each of us and hear each other fully.
Celebrate our Successes
We recognize and reward the achievements of one another, and share life's milestones with our members by having fun and celebrating our successes along the way.
At Canopy Credit Union, we work to WOW you.
When you're a member at Canopy Credit Union, you're more than a number. We know you by name and work hard to provide the "friends and family" feeling that makes coming to see us a pleasure. We're warm and inviting.
When you enter the building, you'll be greeted by our friendly receptionist, Elvira. Step up to the coffee bar and pour yourself the perfect cup of our delicious Thomas Hammer coffee - add cream & sugar if you like! Make yourself comfortable - pull up a seat and read the latest edition of The Inlander or hop on your phone using our free WiFi. It's all here for you because we care about providing exceptional service with a personal touch.
The only way we can continue to improve is to hear feedback from our members! Have an exceptional experience? Have an experience that could have gone better? We're here to listen - email us your feedback.
WOW Factors Include:
Dog bones for our canine friends
Cookies on County paydays
Free swag for new membership/account openings
Treasure chest to motivate the kiddos to save
Stickers for kiddos
Kid's corner stocked with coloring tools and toys
Free calendars
Annual Member Appreciation BBQ every summer - free lunch, live music, giveaways and more! ​