Your story matters.
Taking care of your finances is either a) a bore or b) stressful.
We totally get it.
That's why our team meets you wherever you're at in your journey. We'll walk you through every step of the way so that you feel more confident making important financial decisions.
Already feel confident? Let's keep up the great work!
We'll help you enhance your current financial situation whether that be saving you more money with low-rate loans and special rewards with your checking accounts or just feeling more connected to your credit union or how about both?
Join our Canopy family today and experience the credit union difference.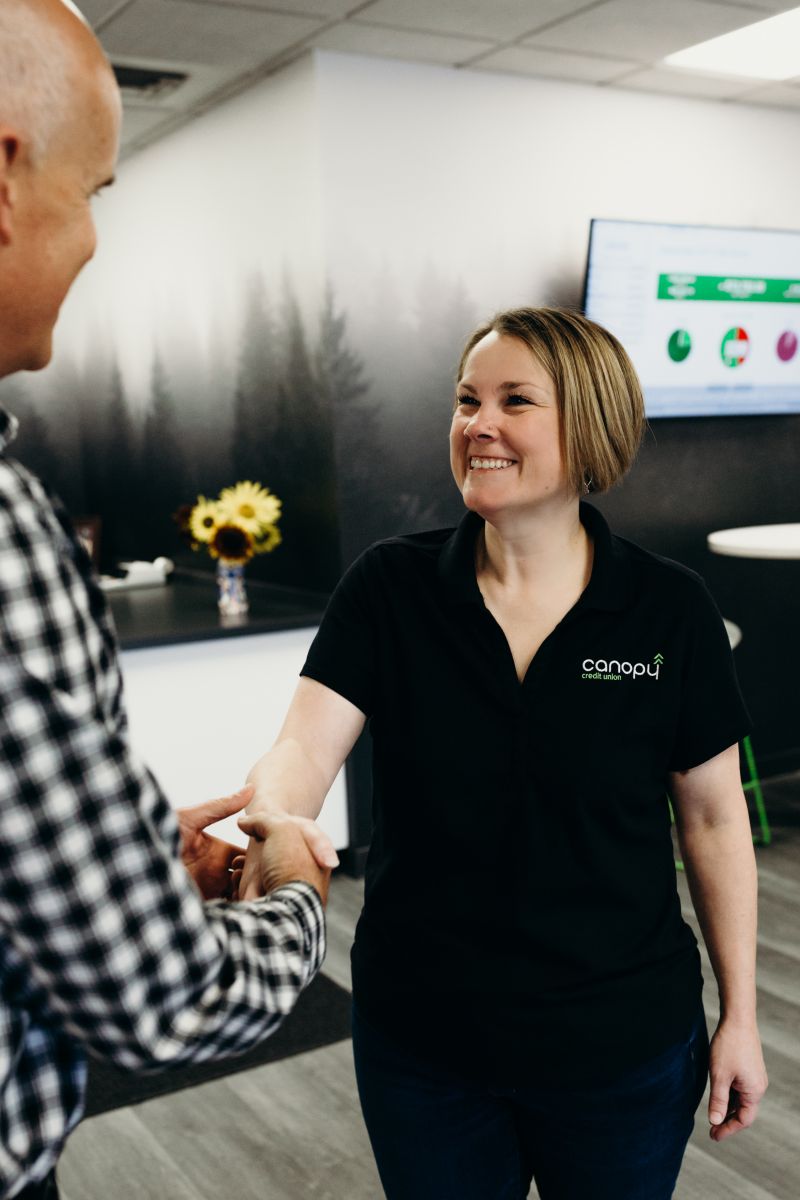 ---
A Bit of History
In June of 1956, seven Spokane area Federal Government employees came together to form Spokane Federal Credit Union. In the beginning, volunteers managed everything, accepting deposits and making loans. After the staff of Expo '74, Spokane's World's Fair, cleared out, we bought their headquarters building at 601 W. Mallon and are still there today.
While the Credit Union may have started out with just a few passionate volunteers and only a few hundred dollars, we've managed to grow to the point where today we're roughly 12,000 members strong with around $150 million in assets.
As we continued to grow, we noticed many people in the community thought they had to be Federal employees to become a member because of our name, so in the summer of 2019 we changed our name to Canopy Credit Union - better representing who we're able to serve. We wanted a name that reflected not only where we've been and who we've become, but also a name that would better define our future. We chose Canopy Credit Union because it illustrates our ideals of being a safe place for members to grow, and appeals to a wider demographic - with a little nod to the Pacific Northwest.
Canopy Credit Union is a place where your story matters.
Here you grow.
---
Our Core Values
Be WOW worthy
Why be good, when you can be great? Our team brings their A-game every day because our members deserve financial advocates they can trust.
We will be there. We will make someone's day. We will play and have a little fun. We will choose our attitudes during the good times, as well as the bad and that is what makes us sparkle.
Own it
We accept responsibility for our actions. It's one of the key building blocks in developing successful relationships with our members and each other.
Working towards a common vision
All of us strive to keep Canopy a welcoming, convenient, and fun place. We provide exceptional, personal service to our members and are a caring neighbor in our community.
Build open and honest relationships with communication
We act with honesty and integrity. We encourage the voice within each of us and hear each other fully.
Celebrate our successes
We recognize and reward the achievements of our team, and share life's milestones with our members by having fun and celebrating our successes along the way.
---
At Canopy Credit Union, we work to WOW you.
WOW Factors Include:
Dog bones for our canine friends
Cookies on County paydays
Free swag for new membership/account openings
Free coin counting for youth
Kid's corner stocked with coloring tools and toys
Free calendars
Annual Member Appreciation BBQ every summer - free lunch, live music, giveaways and more! ​
---
The only way we can continue to improve is to hear feedback from our members! Have an exceptional experience? Have an experience that could have gone better? We're here to listen - email us your feedback.