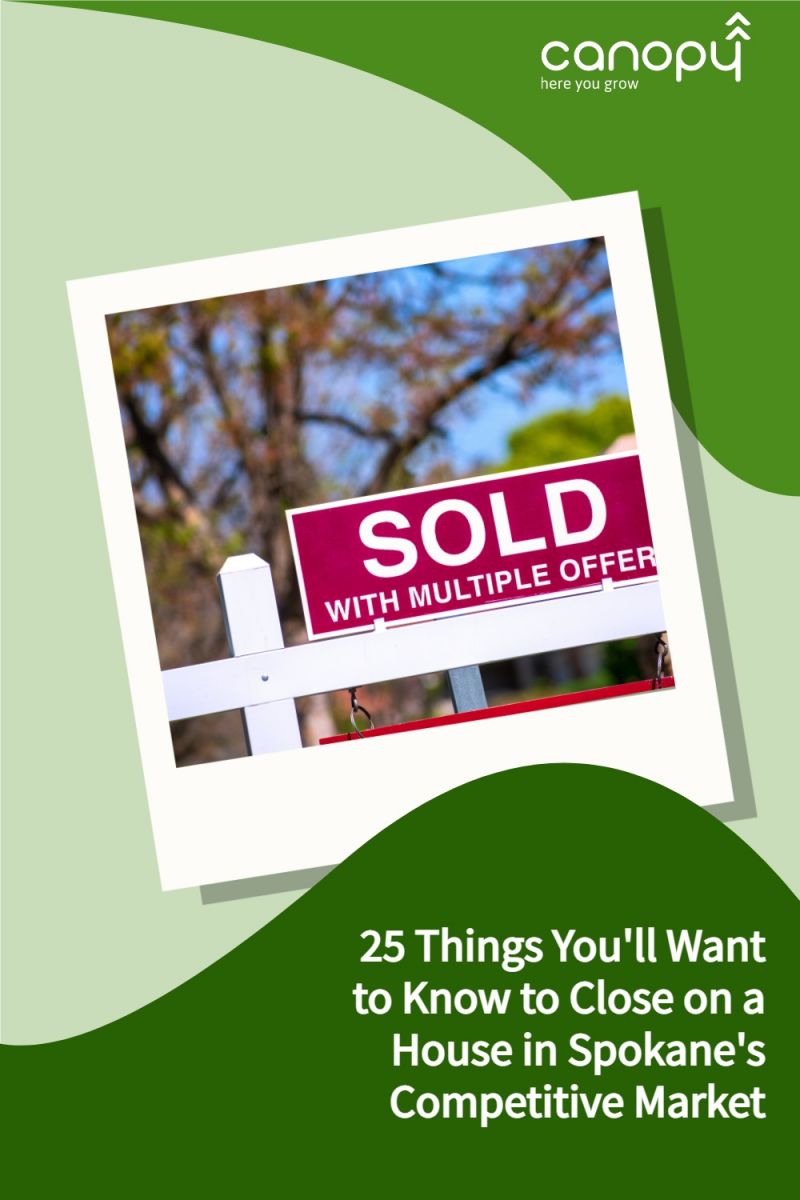 Right now the housing marketing in Spokane and its surrounding area is one of the most competitive in the country. With more buyers than houses for sale, it is not unheard of for shoppers to be out-bid for 20 or more offers before finally reaching the opportunity to even be considered to close on a house. In such a stressful situation, the more you can know ahead of time will help to make the process smoother for you.
Below is a list of 25 things you'll be grateful that you knew before reaching the point of trying to close on your house in today's highly competitive and rapidly moving housing market.
# 1 Work with a realtor you trust
Your real estate agent negotiates on your behalf and will help you find the right property for your next home purchase. In Spokane, there are literally hundreds of agents to choose from. Because your agent is such an integral part of your home buying process, we recommend that you take your time selecting one that comes highly recommended from trustworthy sources, and is a good fit for your needs.
#2 Be prepared for some hefty upfront costs, including earnest money earnest money
Earnest money is a check you need to be able to cut as soon as your offer is accepted. It's put down before the closing of your house to demonstrate to the sellers that your offer was made will the full intentions of following through with the purchase as long as the rest of the closing process is reasonable and goes as expected.
#3 Another additional cost will be the home inspection
Don't skimp on this one, and make sure you use an inspector you trust. If you can, find one that is independent of any of the other parties involved, including real estate agents. You want an inspector that is going to take their time combing through the property and alerting you of any repairs that are needed in the near future. Anything the inspector finds is grounds to remove your offer or re-negotiate it.
#4 Be flexible with your closing dates
You're more likely to get the winning bid if you don't need to close by a particular date. If you're willing to be flexible with the sellers you may get a home two or three offers behind the higher bids just because you are able to wait more than 30 days before moving in. Sometimes the sellers of a house needs to stretch out the time-table for tax purposes, or they may be needing a longer period before their next house is ready for move in.
#5 Get ready for a mountain of paperwork
This will include proof of income (especially if you or anyone else involved in the purchase are self-employed). This is where it helps to have pay stubs, bank statements, tax returns, etc. at the ready. You may not be given much time to gather these documents once the process gets going!
If you can pick a bank or credit union that you know and trust ahead of time, you'll be in better shape down the road. If you can help it, don't just go with whatever lender your realtor recommends. Purchasing your home will likely be the largest purchase you make in your lifetime, so you want to go with a financial institution you are comfortable with and who will offer you the best service following the initial transaction. If you choose to go with us here at Canopy Credit Union, we have a home loan process that is designed to fit your needs, with several options to choose from. (Click here to learn more.)
#7 Speaking of pre-approvals, they are easy to renew if you're working with Canopy Credit Union
Even if you're unsure about making a purchase right away, you can always get the pre-approval process started so you're ready to place your bids at a moment's notice.
#8 You may need to include an escalation clause
An escalation clause is written into your initial offer that you will automatically increase your offer to a certain price above competing offers until it reaches a maximum price you are willing to pay for a home. It increases your competitiveness when going against multiple bids for the same house.
#9 Prep a 22AD
This is a form that outlines how much above appraisal you are willing to pay out of your own pocket if the home is appraised at a lower value by the bank than the offer you put in. This is an amount you need to have on hand because it won't be funded from your loan.
#10 Have any contingencies? They will need to be squared away in your final weeks
This could be the selling of your current home, along with any home inspections, appraisals, and financing contingencies that will need to be cleared before signing day.
#11 Be on the lookout for homes sold by your purchasing agent
While the seller traditionally covers all of the realtor fees, you may still get a deal and save costs if you sell and purchase with the same realtor or agency.
#12 Remember this: almost everything is negotiable in this transaction
#13 As a follow-up to #12, the negotiables include furnishings and appliances in the home
If, when doing your original tour of the home, you saw some dining furniture or washer and dryer set that you want thrown in, you can ask that they be included in the home offer or offer to pay an additional amount for them as extras.
#14 Cash to close is going to be more than your down payment
Talk to your realtor and home lender for a breakdown of everything you'll need so you aren't caught off guard.
#15 Prep a list of all of the utility companies and their contact information
Find out exactly which utilities need to be activated/switched over to when you move. To prevent disruptions in service, get as many of these set up before move-in day as you can.
#16 Be protective of your credit score
Ensure that your score is as high, or higher than it was when initially getting pre-approval for your loan. You can do so by avoiding any activities that could damage it before your loan has officially been approved and you've fully closed on your new house. Such things can include opening new credit cards, racking up balances, or financing any other large purchases such as a car or boat.
#17 Review your closing disclosure
This will list out any additional fees, your payment estimations, closing costs (typically ranging 2% to 7% of the home price), and the terms of your loan.
#18 Do a final walk-through of the home
Your final walk-through usually happens 24 hours before closing, and it's your last chance to review the condition of the home and verify that it has been completely vacated and is ready for you to move in. You also want to make sure that any changes, repairs, or negotiated furnishings are intact and included per any agreements made between selling parties.
#19 Ask you lender about how your mortgage will be serviced after closing
Will it be sold off to another lender, or will they keep and service the loan? And if it is them servicing the loan, are there any fees that would be helpful to know about ahead of time? Unfortunately, there are some mortgage lenders that charge additional fees for things like making principal only payments or charge an early-payoff penalty. Make sure this isn't the case with yours, and that they are upfront and clear regarding all of these additional or pontential charges being tacked onto your loan. If you choose to use Canopy Credit Union for your loan, one of our experienced real estate advocates will help you be informed and feel confident throughout your entire purchasing journey.
#20 You'll need to provide proof of homeowners insurance at closing
While it's probably true that you'll get a bundled discount rate if you go with whatever company also services your auto insurance, you can also shop around at other companies to see if you can get an even better rate. Just make sure the coverage is adequate for the home you are planning on purchasing!
#21 Ask about when and how you'll make your first mortgage payment
Sometimes you have a cushion of about 45 days until that first payment is due, so you'll have a little time after closing to get ready, including registering for any online banking platforms that may be involved.
#22 Lock in your interest rate as soon as possible
With likely rate hikes on the horizon, locking in what you'll pay in interest as early as possible could save you both in what you pay for monthly payments as well as the length of time it takes you to repay your loan
#23 Keep a running list of questions
Things can feel rushed when the market is so hot. It's all too easy to forget something you meant to ask your lender, real estate agent, or home inspector. Referring back to a checklist of your own will keep you from forgetting.
#24 Moving day may be a small window
This can be true particularly if you are moving from a home that you're selling as a contingency to purchasing your new home. You may only have a few hours to vacate your starting house and switch to the next. To mediate the stress that comes with this situation, have a moving day game plan in place, and pre-pack as much of your personal belongings as you can manage, potentially moving the bulk of it to a storage unit in the interim.
#25 Do a final check of your disclosure documents
The fees and amounts may change with each estimate, be careful not to gloss over these important sections when you get the final version!
Feeling ready to jump in? Check out more information on getting a home loan with Canopy Credit Union here. You put a lot of thought into buying a house that you will be happy with for years to come. Our goal is to make sure you feel just as good with your mortgage decision, too.