Money is a difficult subject for many people, and it can be especially to talk about with others. If discussing financial matters with friends or family is tough or confusing for you, you may be hesitant to sign up financial coaching, despite all the benefits of having a finance coach. We comeplelty understand! To talk about your financial situation and money with a stranger might feel uncomfortable, but there are many long-term benefits of financial coaching and meeting with certified financial coaches.
Let's discuss each of the benefits of having a financial coach, how they are differant than a fianncial advisor, and discover how having a money coach on your side can better your financial wellness in the future.
What is a Financial Coach?
Financial coaches are a type of professional that is trained to understand money and the details of managing personal fiannces, helping their clients identify opportunities and learn techniques to better manage their money. It's a popular misconception that your coach would make decisions for you, but instead of handling your money and financial decisions directly, they teach you management skills while helping you reach your financial goals.
A financial coach helps you develop financial literacy and money management skills by discussing your goals, behavior, and attitudes around money. This is distinct from a financial advisor, who may give your investment options or help you with estate planning. It's important to understand that hiring an advisor is different from meeting with one of our free financial coaches.
Benefits of Financial Coaching
Now that you know what a financial coach is, let's discuss the benefits of hiring one.
Plan Your Financial Future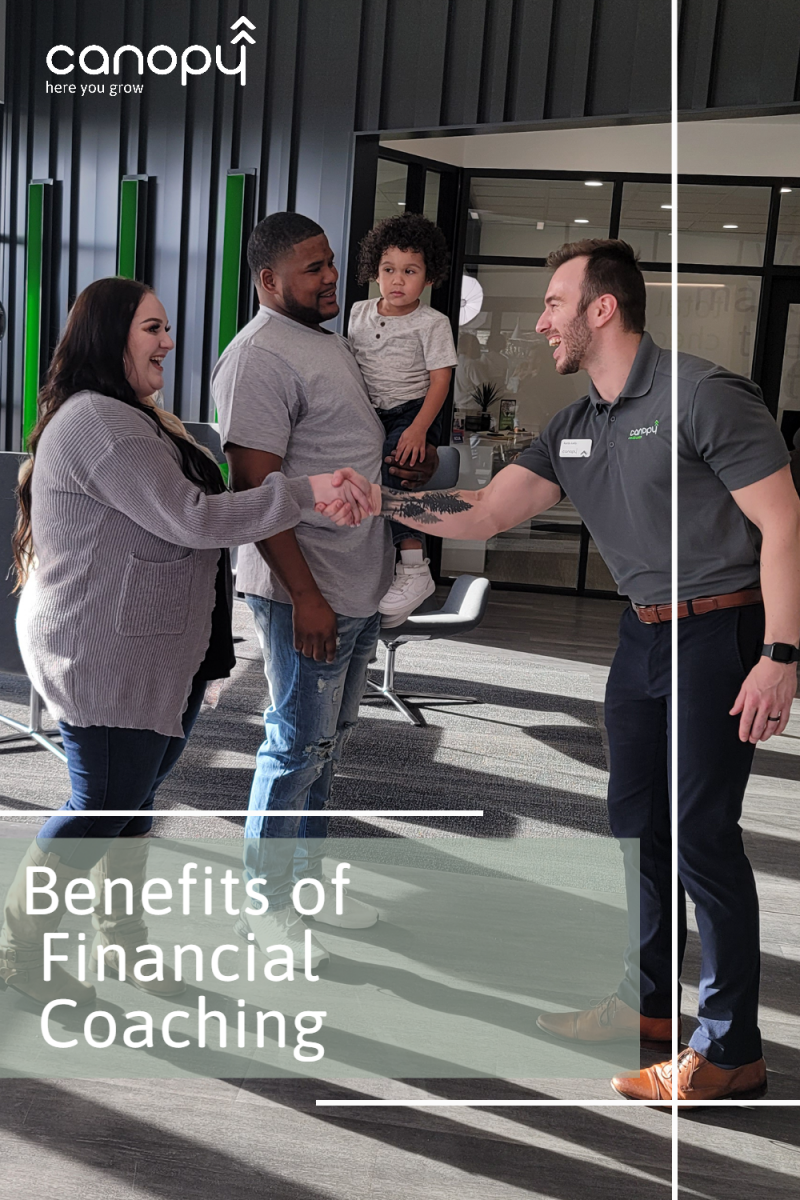 A lot of people struggle with long-term financial goals, unsure how to achieve them beyond putting money away into a savings account. Just like professional athletes have a coach to keep them on track and show them how to achieve their long-term goals, the same can be said for financial coaching. Having a financial coach keeps a guiding voice by your side that encourages you, keeps bad money habits in check, and is knowledgable in tactics that help you get where you want to be financially.
How to Manage Finances
Most of us are not taught good financial management, yet we're all expected to figure it out as we go. Even if you did learn how to manage your money, what was true at that time may not still be true now. The financial world is constantly changing with new rules, new opportunities, and new skills to acquire. By having a certified financial coach in your corner, you're exposed to innovative tools and the latest tips to better manage your money or handle different financial situations
Understanding Your Credit Score
Most people understand that their credit score is important and to keep an eye on it, but how to improve it and what can affect it isn't always fully understood. Having a financial coach on your side can help you make snese of all three of your credit reports and help you to navigate credit repair so you can seize financial opportunities that a low credit rating can rob you of.
Where Your Money Goes
We all think we have a handle on where our money goes, but it's very easy to lose track of spending. Think of quick vending machines grabs and small purchases, a few dollars here and there. It adds up quickly and can take a chunk of your money before you even notice. A financial coach helps you account for how you spend money and guides you in creating a budget you can actually use, as well as a plan for any debt you have.
One of our financial coach's greatest strengths is helping people to organize their money and financial accounts in a way that makes the best sense for them.
A Frank Partner in Finance Life
Money is a sensitive topic and it can be difficult to speak about bluntly or take advice on, but by having a financial coach you can get frank advice on your money habits without it feeling like a personal attack. A financial coach is there to help you achieve the goals you've outlined for yourself and has no stake in the decision you make regarding your financial future or money, giving them the ability to see more objectively and to talk with you more honestly. Ultimately, it is their job to help you allievaite what current money stresses are on your plate.
Get a Financial Coach on Your Side
At Canopy Credit Union, we invest in our neighbor's financial freedom and goals by providing completely free financial coaching to our customers an docmmunity members. Our certified financial coaches offer personalized help and guide you through the process of learning to take control of your money. Click below to read what to expect from our financial coaching session and discover how to manage your money with confidence and enhanced skill.