Happy fall, everyone! I personally am ecstatic about the crisp air, warm coffee, sit-by-the-fireplace, sweater weather season! Over the summer, I stepped aside from writing our college blog to let my dear friend, Lauren Byrne (hellohenrys.com), share some financial tips with you (because I think she's super savvy!) and therefore, I have some heavy catching up with you all to do! So what's new on my side of things?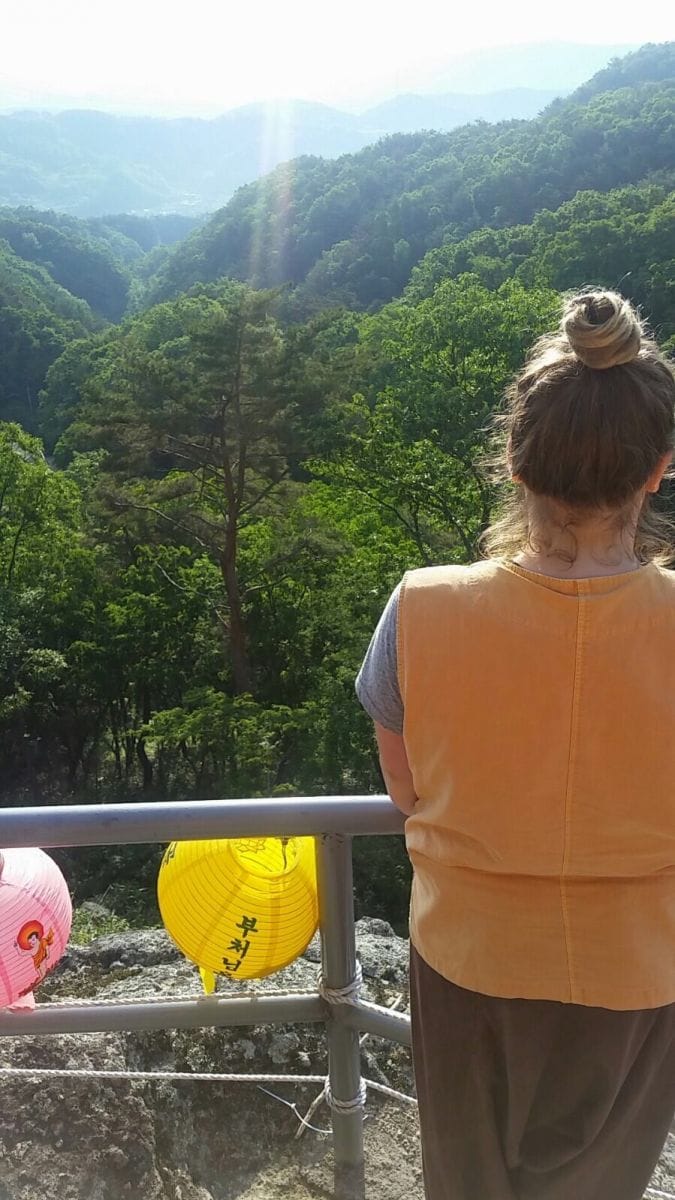 I graduated from WSU in May with my Bachelor of Arts in Strategic Communication, Public Relations and a minor in Spanish.
That very same weekend I packed up my house in Pullman, drove to Seattle and departed on a choir tour to South Korea for 10 days. Talk about an experience of a lifetime! Their appreciation for the arts is unmatched; I now have so much love in my heart for that country. Featured to the right is a picture of me at the top of the Golgulsa Temple in Gyeongju where we wore special outfits and practiced Sunmudo (I describe it as a mix between martial arts and yoga), began our mornings at 4am, and ate vegetarian food.
The same week I returned home from South Korea I moved back in with my parents and remodeled my room from the 12-year-old-style of hot pink and orange paint with gold glitter to a more mature and simplistic style that fits my personality much more.
Side note: It's a totally natural step to move back in with your parents after graduation. In fact, if you have the option, I highly recommend it. Why?
It allows you to save money
It allows you to have company while you basically rebuild a community for yourself
It allows you to spend time with your family and thank them for their support throughout your college years
It allows you to save money…wait, did I already say that? :)
After I finished the monstrous project of completely remodeling my room and moving all of my things back home, I started my first full-time job in my career as Marketing Coordinator for Spokane Federal Credit Union. I couldn't be more grateful and am absolutely loving my job! I must say, it's been nice not crunching pennies together to afford things anymore. I've since started an emergency savings (everyone should have one of these!), travel savings (South Korea was just the tip of the ice burg for my travels ahead!), and a loan payments savings. I set aside about half of each paycheck into savings…I want to set myself up for a successful future while I can!
August rolled around and I started thinking about Spokane winters and how much I drive...an all-wheel-drive car was at the top of my list when it came to car preferences. So I started the conversation with one of our Loan Supervisors about financing a loan, test drove a few cars at the Subaru of Spokane store and fell in love with a beautiful blue 2015 Subaru Impreza! One thing led to another and I had made my first adult purchase!
Slowly but surely, I am making more of a community for myself and being introduced to life after college. After Labor Day, I decided to get back into music and joined an all-women's choir, Le Donne. I didn't realize I missed choir as much as I did until I was singing in the first rehearsal. It reminds me of this quote by Simon Sinek: "We cannot find a new passion. We can only find better places for our passion to flourish." This holds true for me, as my passion never dwindles, so I must continuously decide where the best place to pursue my passion is.
I know that these steps are just the start of what my post-college life will look like and I look forward to many more opportunities that lie ahead. So I leave you post-college grads with these words: it's okay to feel like you don't know what your next step will be, it's okay to feel a little lost, it's okay that things take a little time. As long as we are making the best of these moments, then we're doing well for ourselves.
Transitions are part of life—embrace them, love them, and learn from them.