For Immediate Release: Canopy Credit Union Reports Impressive Member Cash Back and Fee Refunds
Canopy Credit Union reports impressive member cash back and fee refunds when recapping their 2021 numbers. In addition to giving over $64,000 to the community through sponsorship donations, Canopy has refunded $22,633 in ATM fees to its members, and given KASASA Rewards Checking account holders $45,473 in direct cash back rewards.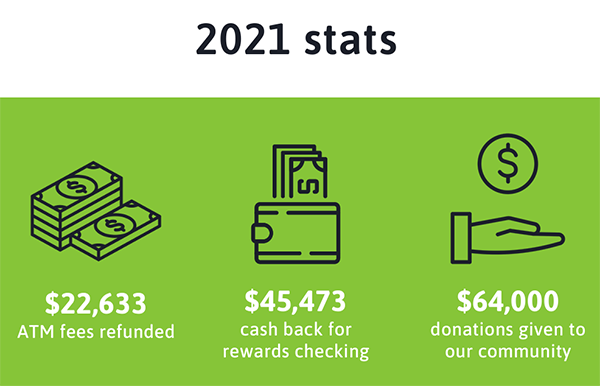 These numbers are indicative of Canopy's commitment to providing its members with an elevated experience with their financial institution. Providing competitive banking products with desirable rates are among the many ways Canopy encourages its members to take care of their financial well-being.
As one recent member review for Canopy noted, "I've honestly never had a better experience probably with any type of business as I did with Canopy Credit Union."
Qualifying KASASA Rewards Checking Account holders at Canopy receive cashback earnings of 2.02% APY on balances of up to $10,000 with a qualifying KASASA High-Dividend Cash Checking Account, 3% cash back on up to $300 in debit card purchases monthly (which is up to $108 per year) with a qualifying KASASA Cashback Rewards Checking Account, or refunds of $10 per month for iTunes, Amazon or Google Play purchases every month with a qualifying KASASA Tunes Checking Account.
"Great customer service," another member reviewed, "The people that work for Canopy treat you like they've known you forever."
Whether you are looking for a more rewarding checking account, low-rate loan, or help setting up a financial plan, Canopy would love to be a part of your story. They offer a friendly, service-oriented atmosphere in each of their three Spokane branches. Stop in or visit them online at canopycu.com to experience for yourself.
###
About Canopy Credit Union
Established in 1956, Canopy Credit Union is a not-for-profit financial institution that currently has over 12,800 members and over $208 million in assets. Over the years, their goal has remained the same: offer the community a place where everyone can grow strong financial roots. Those who live, work, worship, or attend school in Spokane County, Pend Oreille County, or Stevens County, Washington, are eligible for Canopy Credit Union membership. Learn more at www.canopycu.com.