Written by Momcent's Mom, Krista Felker
The holiday season is upon us and we are busy over here decking the halls and trying to squeeze in all the holiday fun we can in between normal life stuff. We have a few traditions around our house that we look forward to all year and can't wait to get started on them again this year.
Number one - Watching the movie Christmas Vacation. This is more for me and my husband (he can recite the entire movie which is both really impressive and really annoying). This movie always gets us in the Christmas spirit!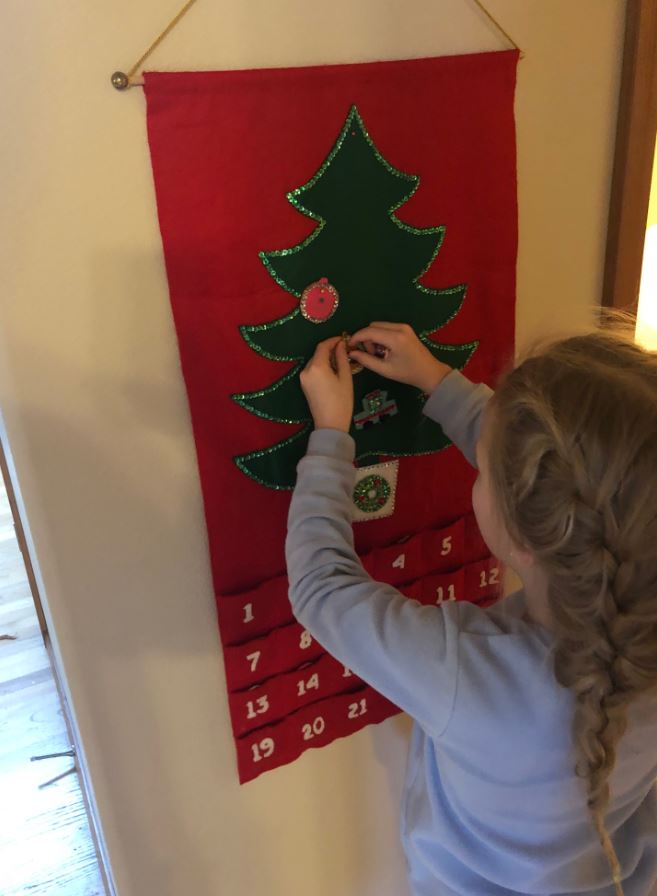 Number two - Hopping in the car, driving to a local coffee stand and ordering hot cocoa for all, then driving around Spokane looking at Christmas lights. Heater on, Christmas music playing, I can hardly wait!
Number three - Advent calendar opening each morning. We have quite a few Advent calendars in our house. The little ones with pieces of chocolate for each day. One my Mom made where you get to put a felt ornament on the Christmas tree. My sister and I used this one as kids and now my kids get to use it. And a cool wooden box with little doors that we got as a baby gift when Ty was born. The kids take turns opening the little doors and grabbing the treat out each day. In December I rarely wake up a grumpy kid because they know they get to do the Advent calendars!
Number four - Matching pajamas have become a must. Dad and Ty (the teenager) are too cool for school, but the little kids and I love to get matching Christmas pajamas. This year they are a full body onesie and they are incredible!
Number five - We usually go to a movie on Christmas Eve. Nothing much goes on during the day before we head to church so we head to the theater. This is typically the only time all year all five of us go to a movie together, so this is special.
And last but not least, number six - Leaving out cookies, milk and a little note for Santa. Oh and carrots for the reindeer. Can't forget the reindeer! Ella made a special plate these go on and it's the last thing the kids do before they head up to bed and the parents get to work (wink wink!).
Happy Holidays from our home to yours!
Read more Momcent's blogs here.