Wow. How quickly our worlds can change.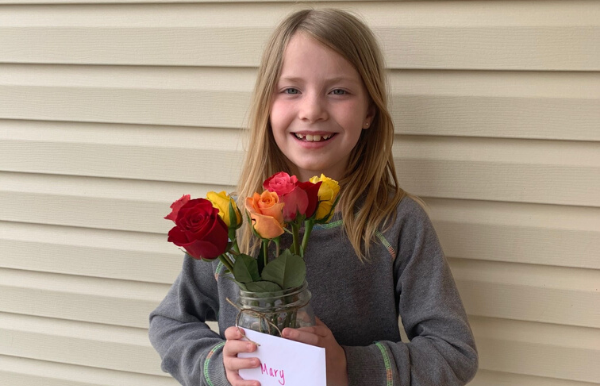 A few weeks ago, our kids were in school full time, we were involved in all kinds of sports and activities, I was busy running errands, organizing PTA events and preparing for an upcoming vacation, and my husband was busy traveling for work. Fast forward to now and we are all at home 24/7. We are homeschooling 3 kids. Justin is working in the basement. I haven't looked at our usually packed calendar in weeks, I usually don't even know what day it is, to be honest. It has been quite the adjustment.
I am feeling very lucky we are all home together and so very thankful for those who are serving others as doctors, nurses, first responders, grocery store clerks and many, many more. While we have more time home together, we have been able to focus on serving others the best we can. Teaching our kids how to be there for others during a time like this is invaluable. Here are some small ways we have tried to make a difference.
Texting, calling, face-timing with friends and family to check in on them. We even did a Zoom dance party with some family members.
Frequently asking neighbors and family who can't get out if they need anything.
Making extra dinners for single neighbors.
Writing cards and mailing them to teachers and family members to tell them we are thinking of them.
Dropping off flowers on porches of friends to brighten their day.
Donating food/money to local food banks to help those in need.
These are just some simple things we have been doing. Helping people makes us feel good in this uncertain time. And guess what, people have been doing the same for us. Letters in the mail for the kids, surprise cookies and donuts left on the front porch. People are good. And at a time like this, there is a whole new meaning to "We are all in this Together". Stay safe friends.