Written by Momcent's Mom, Krista
As I write this, we have been at home for more than 2 months. No school, no church, no sports, no extra activities outside the home. We've gone on a few drives, lots and lots of walks but other than that we have been at home. Homeschool is helping to keep us busy during the week. I just re-learned how to make a mixed fraction into an improper fraction and vice versa, thank you very much! But when schoolwork is finished, we still have A LOT of downtime.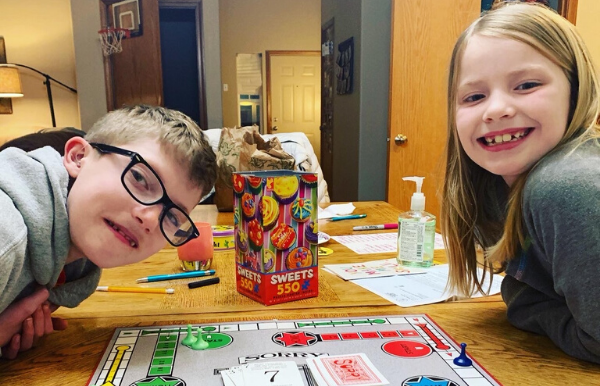 Here are a few of our favorite games/activities we have been doing to keep us busy during quarantine:
Spot It!- So fun and easy!
Rummikub- I grew up playing this one. So fun to teach the kids how to play.
Spoons- Anyone can play this one. If you don't have the actual game you can play with a deck of cards and spoons from your house.
Monopoly Deal- This was a quarantine purchase. It's like Monopoly but you can play it in like 15 minutes. I cannot play a game that takes hours, I lose my mind!
Uno- A classic! Easy for the kids to play.
Guess Who?- Another classic from my childhood. Easy to play and I love that you can play in from the couch or anywhere comfy.
Sorry- Jack and Ella's favorite. So that this one doesn't go on forever we play with 3 pawns instead of 4.
Taco, Cat, Goat, Cheese, Pizza- Also a new find we ordered from Amazon. Fast-paced, crazy, loud but super fun!! Will be fun to play with a group of friends when we can see them again.
Roll For It- Fun little dice game that can be played pretty quickly.
Many, many puzzles- we've done so many puzzles we started borrowing new ones to try.
Watching old home videos- So fun! We came upon some DVD's from an old video camera while cleaning one day. Ty's first birthday etc. So many fun memories.
Wiffle ball, basketball, Frisbee, Spike Ball- every night after dinner we get outside together as a family and get active. We go through phases on what game we play but it is something we all look forward to.
This situation is, of course, not ideal. We miss our friends. We miss our activities. We miss our routine. We are treasuring this time together as a family and trying to make the most out of it. Our kids will be grown up and out of the house before we know it and this time we have had where we are forced to be together will be cherished.