Grocery shopping looks a bit different right now, doesn't it?
Some shelves are empty while some are left untouched, and the sense of scarcity, especially for things like toilet paper and cleaning supplies, causes many of us to feel anxious or stressed.
We're here to tell you these feelings are completely normal, but we'd encourage you to ask yourself "why am I feeling this way, does it make sense?"
Most experts have told us that our food supply is in good shape so as you do your shopping, get only what you need and minimize your trips as much as possible.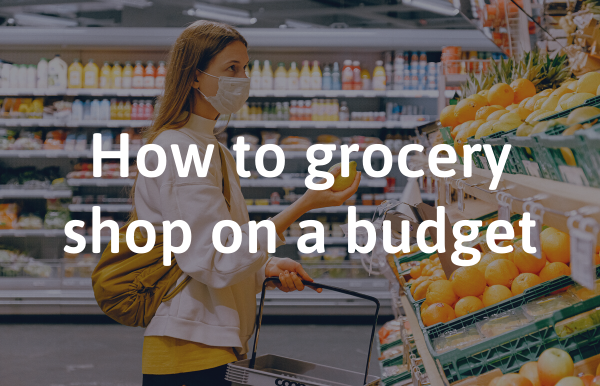 Use what you have first.
What's in your pantry and fridge right now? A can of tomatoes, pasta noodles, cheese? That's a whole meal! Can you see yourself making something out of those items without buying anything else? See if you can build meals using what you already have at home, or maybe you only need one or two more items to make a complete meal.
Make a list and stick to it when you shop.
Stick to the list, and only buy what you need. If you head to the store without a list you'll experience food creep, where things you didn't plan to buy somehow make it into your cart or basket.
Extra tip: take a picture of your fridge and cabinets before you go shopping so you know exactly what you have in case you forget while you're in the store.
Meal plan and buy versatile ingredients.
Plan at least three different recipes that you can make per week where you'll have leftovers (things like crockpot or instant pot meals). A few fun ideas are soups, pasta, pizza, and burrito bowls. Write down all of the ingredients you need and decide if the recipe really needs everything it calls for - do you really need that garnishment on top?
Also, consider buying ingredients that you can use for multiple dishes. For example, tortilla soup and burrito bowls share a bunch of common ingredients like avocados, tomatoes and black beans! These are ingredients that are always nice to have on hand.
Can you make your own?
Oftentimes buying individually packaged items rather than prepared or processed foods can help you keep your costs down. You probably have more time on your hands right now, slow down and enjoy the process of cooking.
Shop after a meal.
Do not grocery shop while you're hungry. We guarantee you'll end up buying items that weren't on your list.
Ask your grocery store when they get deliveries so you can plan ahead.
There's no need to hoard anything because grocery stores get multiple restock deliveries per week, especially if they're larger stores. If you're wanting to be on the safer side, our best advice is to get everything you'd need for about a two week period at a time to cut down on your number of trips to the store.
Buy generic.
It's easy to think well-known brands are superior quality but in most cases, it is the same product, just different marketing!
Extra tip: the most expensive products will most likely be at your eye level - look higher and lower on the shelf to find less expensive options.
Right now the world is adapting to a new normal, and your grocery shopping needs to adapt as well. We want you to know we're here for you and will do our best to help our members and community to be successful in getting through this.
If you have any questions or concerns, our Certified Financial Coaches would be more than happy to meet with you for free.
Stay safe and stay hopeful friends. We'll get through this together.