Member Julie S. describes a recent interaction with Canopy's team at the North Branch as experincing "pure kindness". Here is her story:
One hot summer afternoon, I was driving in North Spokane when my car started overheating. Suddenly, my car wouldn't go over two miles an hour and I began to stress out. As I slowly coasted along Francis Avenue, I realized that I was close to Canopy's North Branch. I barely made it into the credit union's parking lot. At this point, my car wasn't the only thing breaking down. Distressed, I walked into the branch to escape the heat and call a car mechanic.
The Canopy team member at the front desk could tell something wasn't okay. Alyssa compassionately came over with a water bottle and checked in on me. I wasn't okay and having her care for me in that moment meant the world to me.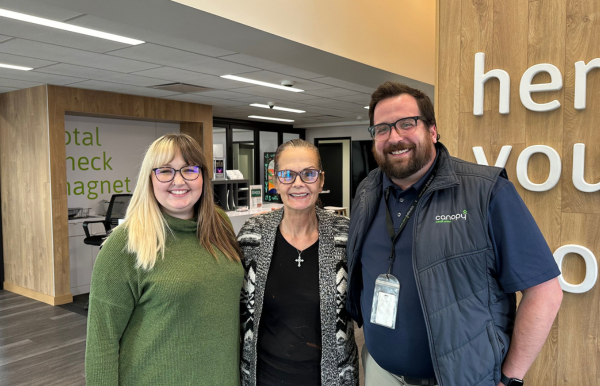 I was worried that if I left my car overnight in the parking lot it would get towed. Ryan, the branch manager, assured me that it wouldn't get towed. He encouraged me to sit as long as I needed to in the lobby as I figured out my situation. He then brought me coffee and a cookie - I will never forget that!
It was then that I told the staff how grateful I was to be a Canopy member. Before then, they had no idea I was a member. The fact that they didn't know I was a Canopy member but still treated me with such kindness deeply impacted me. I would have transferred to the credit union immediately if I hadn't already been a member!
Back in 2012, I became a member of Canopy needing a fresh start and a financial institution to partner with me to improve my credit. It was with Canopy that I purchased my first-ever brand new vehicle, the same car that brought me coasting into the parking lot that hot summer day.
Now over a decade later, I am reassured that I am in the right spot because of the kindness the staff showed me. It is amazing for people to do that as there is just not enough kindness in the world today. I experienced pure kindness and such beautiful empathy for my situation from the whole staff. I am so thankful for what they did for me that day, even before they knew I was a member! The Canopy team is amazing, and I mean that with all of my heart.