Your credit union membership is about the trust and care of the community, built around where you live, work and play. That's why Canopy Credit Union membership saves you money through exclusive member-only offers through our trusted partners. Through Love My Credit Union Rewards, credit union members have saved over $2 billion with offers like:
» Credit union members get $200 when you switch to Sprint! Plus, $100 Annual Loyalty Cash Rewards and 25% off select accessories in Sprint retail stores.
» Credit union membership also saves you up to $15 on TurboTax federal products.
» Members save on SimpliSafe, the #1 expert pick for home security.
» Save 30% on premium identity protection from Financial Lock.
» Save on car maintenance + get $10 off your first service using CarAdvise.
» Canopy Credit Union members can save big with an exclusive discount from the TruStage Home & Auto Insurance Program.
Learn all about how your Canopy Credit Union membership gets you all these exclusive savings and more at LoveMyCreditUnion.org. Check them out and start enjoying credit union member benefits you never knew you had.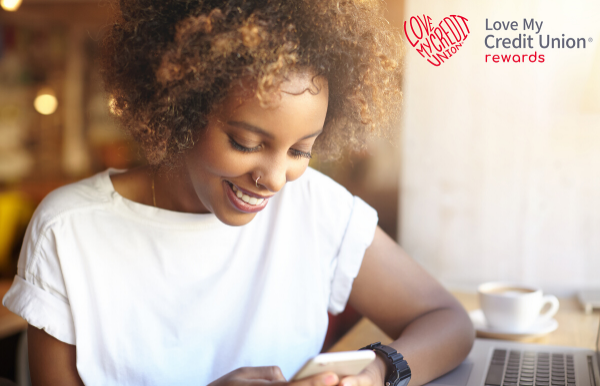 Limited time offers. Activ. Fee: Up to $30/line. Credit approval req. Cash Reward Offers: Phone lines only w/ 1 line on Unlimited Plus or Unlimited Premium plan. Avail. for eligible credit union members & member employees. $100/line, max 2 lines. Req. activ. at point of sale. Excl. prepaid & ports made between Sprint or related entities. Limit 1 Sprint Perks Corp ID per acct. No add'l. discounts apply. Loyalty Reward: $100/acct./yr. when acct. remains active and in good standing each yr. Transfer Reward: Existing Sprint customers who validate or transfer to the Sprint Cash Reward Program are eligible for a $100/acct./yr. deposit on 12 mo. anniversary. Deposit: Cash Reward issued by CU Solutions Group. Sprint acct. must remain active and in good standing for 31 days to receive Cash Reward. Allow 8-10 wks. for Cash Reward to be deposited to your Credit Union acct. If the Cash Reward does not appear after 10 wks., visit lovemycreditunion.org/reward-tracker. Satisfaction Guarantee: Call us to deactivate & return to place of purch. with complete, undamaged phone/device & receipt w/in 30 days of activ. We'll refund your phone/device cost, svc. charges & activ. fee. Excl. int'l. usage not incl. in plan, prem. content & 3rd party billing. We'll refund your phone/device cost. Sprint dealer may impose add'l. fees. A $45 restocking fee may apply. Visit sprint.com/returns. Other Terms: Offer/coverage not avail. everywhere or for all phones/networks. May not be combinable with other offers. Accounts that cancel lines within 30 days of activating on promo pricing may void savings. Offer, terms, restrictions, & options subject to change & may be modified, discontinued, or terminated at any time without notice. Restrictions apply. © 2019 Sprint. All rights reserved. Sprint & the logo are trademarks of Sprint. Other marks are the property of their respective owners.