One of the Inland Northwest's greatest attractions is its four distinct seasons. Out of the four seasons, fall stands out as being breathtakingly beautiful.
This place is more than just pretty to look at. Packed with fun, interesting, and unique things to see and do, the Inland Northwest offers plenty of fall activities.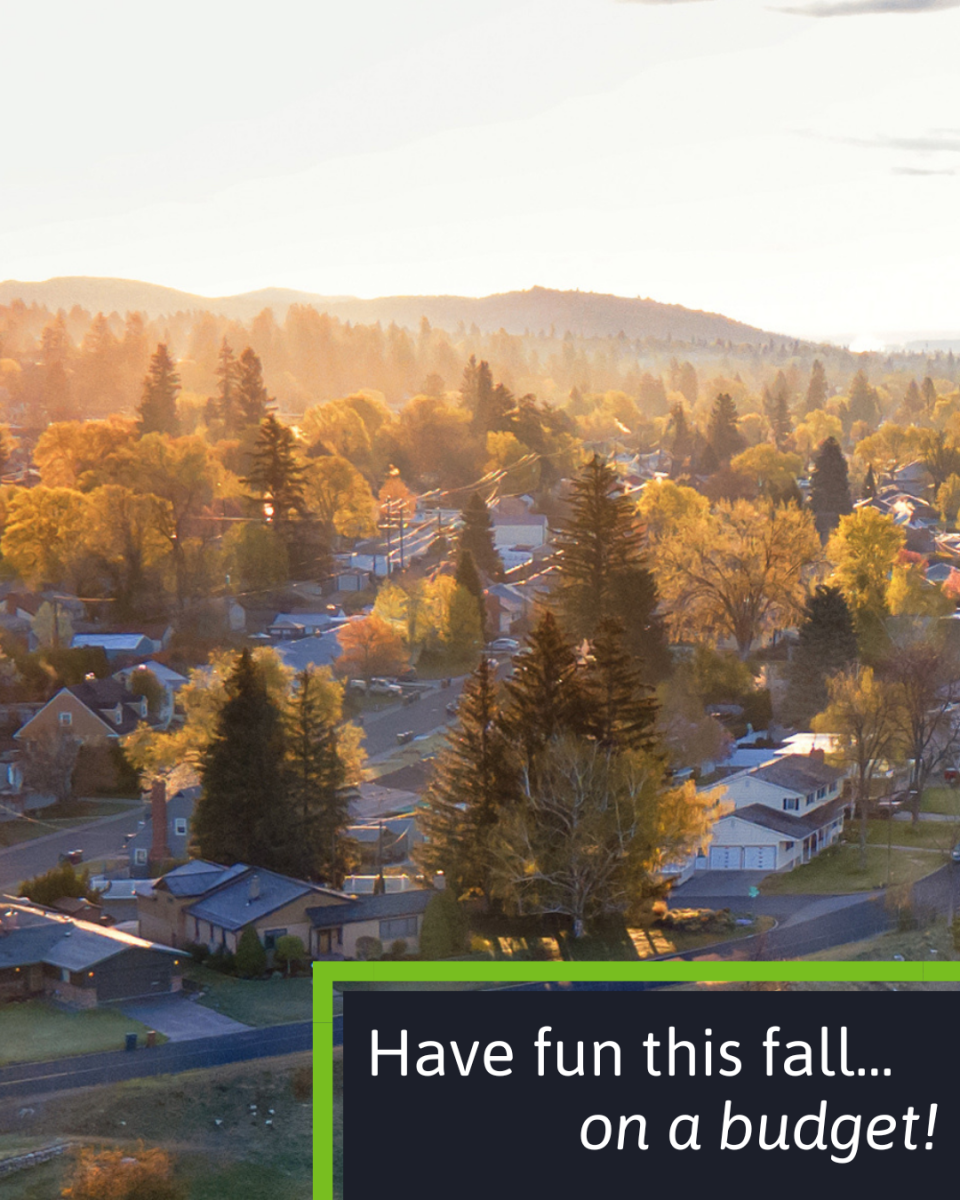 Explore Riverfront Park. Set on Havermale Island in the Spokane River, this 100-acre urban park in downtown Spokane was the home of the 1974 World's Fair. Whether you're walking or riding a bike, you'll discover art installations, green spaces, basketball courts, fountains, and much more. Check out the 1902 Great Northern Clocktower, the 1909 Looff Carrousel, the US Pavilion, and Spokane Falls, the largest urban waterfall in the US.
Hike or Bike the Centennial Trail. Stretching for 37 miles from Sontag Park in Nine Mile Falls to the Idaho border, the Eastern Washington section of the Centennial Trail offers walkers, runners, cyclists, and rollerbladers a scenic route along the path beside the Spokane River, through downtown and Riverfront Park, and beyond.
Award Winning Wines and Craft Beers Abound. Spokane's "Cork District" offers more than 20 tasting rooms and wineries scattered around the city center. Known for its award-winning reds, Barrister Winery sits in the heart of downtown and often features live music while you're enjoying some fine wine. Visit downtown's Robert Karl Cellars and try their famous Claret, or head north to Kendall Yards to visit the Maryhill tasting room. Take a short drive to Spokane Valley to visit Cellars' historic Cliff House Estate. If craft beer's more your jam, the Spokane area offers beer lovers more than 20 craft breweries to sample and enjoy.
Go to visitspokane.com for maps and details to create your own itinerary for a craft beer or wine tasting tour this Fall.
Experience Art on Spokane's Sculpture Walk. You'll encounter more than 30 individual sculptures at various locations throughout Riverfront Park and The Centennial Trail. The Childhood Express, a red, 26-ton Radio Flyer wagon is also interactive, allowing you to climb into the wagon and scoot down a slide to the ground. Check out Goat, a garbage eating steel sculpture that utilizes an interior vacuum system to "digest" your trash. The giant Riverfront Rotary Fountain is especially popular with kids.
You'll find a handy map that you can download to find each of the Sculpture Walk's 34 works of art at Spokanearts.org.
Hiking, Biking, and Fun in the Great Outdoors in Riverside State Park. Washington's second-largest state park, Riverside State Park offers locals easy access to outdoor fun. Set on 9,000 acres just 15 minutes away from downtown Spokane, the park features 55 miles of hiking trails, 25 miles of horse trails, campsites at the Bowl & Pitcher area, and when you're tired of treading down the trails, the city's Downriver Golf Course is right next door.
Pick a Pumpkin (and more) on Green Bluff. Just 30-minutes from downtown Spokane, Green Bluff offers visitors access to the bounty of a 26-farm collective and family-friendly fall fun including a corn maze, hayrides, and pumpkin patch. And don't sleep on the pumpkin donuts. They're a local fall delicacy. Take advantage of u-pick strawberries, peaches, plums, and more. Pick ripe, juicy apples for your homemade pies and cider.
Wander the Gorgeous Gardens at Manito Park. Just a few minutes from downtown on Spokane's South Hill, Manito Park is a Spokane treasure. Designed by the famous Olmstead Brothers, most widely known for creating New York City's Central Park, this 90-acre public park attracts more than 150,000 visitors a year.
The park offers visitors five distinctly different gardens, including the Dahlia Garden, Lilac Garden, Duncan Garden, Joel E. Ferris Perennial Garden, and the spectacular Nishinomiya Tsutakawa Japanese Garden. If roses are your passion, you can see more than 150 varieties on Manito's Rose Hill. Whether you're watching ducks swim by at the Mirror Pond or learning about tropical and desert plants at Gaiser Conservatory, you're guaranteed to find nature, wonder, beauty, and tranquility at Manito Park.
Enjoy Experiences that Enrich and Inspire. The Northwest Museum of Arts and Culture, an affiliate of the Smithsonian, features a permanent collection boasting more than a million historical artifacts highlighting the history of local and regional Native American cultures. In addition, the museum offers a variety of exhibitions covering a broad range of creative, artistic, and cultural expressions. To find out about current exhibitions, visit northwestmuseum.org.
While you're there, be sure head next door to spend some time visiting the historical 1898 Campbell House, for a glimpse of life in early 20th century Spokane.