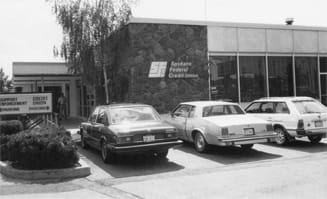 In June of 1956, seven Spokane area Federal Government employees came together to form Spokane Federal Credit Union. In the beginning, volunteers managed everything, accepting deposits and making loans to their fellow members out of our first office in the Great Western Savings building at Lincoln and Riverside.
Good ideas have a way of catching on and gathering momentum. Over the years, we've merged with the Navy Supply Depot Credit Union and acquired three more: Spokane County Federal Credit Union, the Veterans Administration Credit Union, and Contented Federal Credit Union.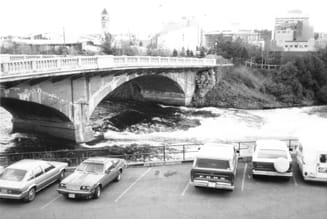 With all that growth, we needed to find more room, and after the staff of Expo '74, Spokane's World's Fair, cleared out, we bought their headquarters building at 601 W Mallon.
We've only had five top executives in our entire history (it must be because they love their jobs!). Charlotte Nemec is our current President and CEO.
While we may have started out on a shoestring, with just a few hundred dollars and only seven dedicated people, we've managed to grow to the point where today we're roughly 12,000 members strong with around $150 million in assets.
In the summer of 2019, Spokane Federal Credit Union became Canopy Credit Union. We wanted a name that reflected not only where we've been and who we've become, but also a name that would better define our future. We chose Canopy Credit Union because it illustrates our ideals, and appeals to a wider demographic - with a little nod to the Pacific Northwest.
Like a tree canopy provides shelter and protection to the community surrounding it, Canopy Credit Union provides a safe and non-judgemental place for all people who wish to improve and maintain their financial goals.
Thank you for being a part of our journey. We can't wait to continue providing our members with exceptional, personal service!