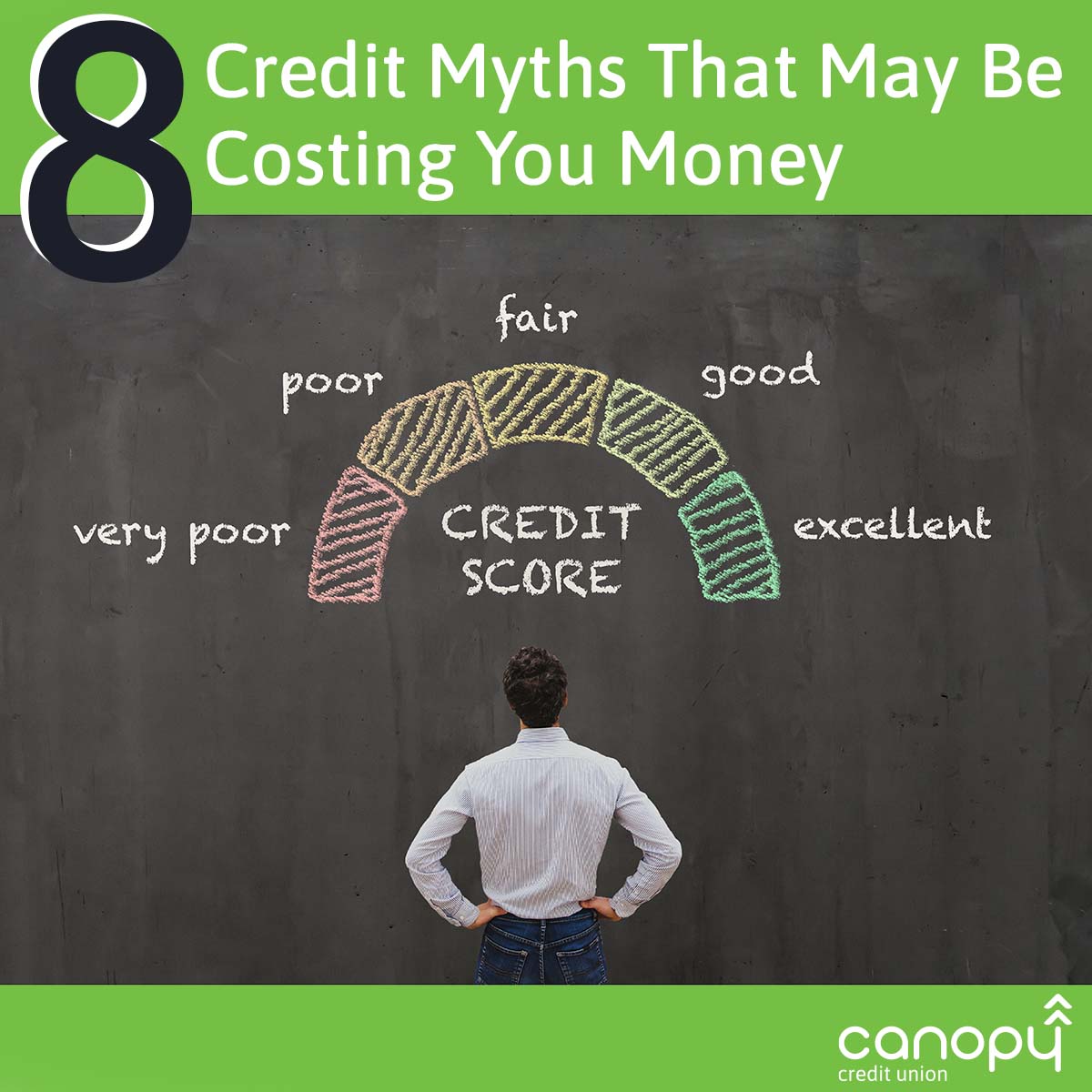 Helping our members learn how to best manage their credit is something we do everyday. It's a topic that's fraught with misinformation and bad advice. A person's desire to improve their credit score is fueled by a number of factors. Many people had their credit scores damaged during the recession and pandemic and are now trying to improve them in order to qualify for lower mortgage and loan rates. In addition, employers increasingly use credit reports to evaluate applicants, so every little factor counts. Regardless of your score, here are some common credit myths that could be costing you money.
I haven't done anything wrong so my credit is fine. Even if you've done everything right, your credit could still be in trouble. That's because 35% of credit reports have errors on them. If that includes you, you might be paying more in interest than you need to be.
If I check my credit report, it will hurt my score. Checking your own report generally doesn't hurt your score but errors do, so don't let this hold you back from finding out.
I've checked my credit report and there are no errors so I don't have anything to worry about. You actually have 3 credit reports (from Experian, Equifax, and TransUnion) so if you've only checked one, there's still a chance that errors on one of the others is hurting you.
I should get my free credit reports at freecreditreport.com. Many sites like this only give you access to one report, which is from Experian in this case. At freecreditreport.com, you also have to wait for up to two days or pay a monthly fee unless you cancel within a short period of time. Instead, you'll want to go to the official site created by the three credit bureaus: annualcreditreport.com, which allows you free and immediate access to each of your credit reports once every 12 months.
You should pay someone to help improve your credit score. There are tons of credit repair companies that are willing to take your money to help with your credit, and some of them are questionable. The truth is, they aren't doing anything that you can't do yourself for free. If you don't like where your credit score is, we can help. We offer free individual financial coaching that can help you get your score moving in the right direction. Visit our financial coaching website canopycu.com/coach to make an appointment to meet with a financial coach today.
I should always close a credit card after paying it off. This can actually hurt your credit score in a couple of ways. If it's a card you've had for a while, closing it can reduce your credit history, which is about 15% of your score. Second, if you have any debt, closing a card can increase your debt utilization or the ratio of debt to credit available. If you're afraid that having a card will make it too tempting to overspend, you can always cut up the card and simply not use it. However, there are also a couple of reasons to close a credit card account. One is a steep annual fee, but you can always ask the issuer to switch the card to a no-fee one. Secondly, closing a card can help your score if you have too much credit available. To see if this is the case for you, you can preview the effect of closing a card and other actions on your score at sites like Credit Karma and Credit Sesame.
Maintaining a balance on my credit cards will increase my credit score. Opening and using a credit card can increase your score, especially if you're starting to build or rebuild your credit, but keeping a balance will only increase your interest payments. If anything, the opposite is true since having a lot of debt can hurt your score. The absolute best way to build your credit is to pay off your cards in full every single month while never going above 10% of your total available credit limit.
I need to pay a company like LifeLock to protect my credit. You can get free daily credit monitoring through Credit Karma. For even tighter security, you can implement a credit freeze with each credit bureau for free to help prevent identity thieves from opening an account in your name.
Learn more about your credit options. We're here to help.
Many lenders charge high rates for first-time borrowers. That's not what we do at Canopy. Charging a super high rate to a first-time borrower is like punishing someone before they've done something wrong. We won't do that to you. If you're looking for your first auto loan, personal loan, or credit card don't accept a bad rate, come and see us instead. You'll be happy you did.