By SpoFed's Momcents Mom, Krista
Ella and I had the best time together the other night. It was a Friday and we had no plans. No basketball games, no practices, no dance, it was a rare occurrence. We were about to order pizza in and just chill when I asked Ella if she wanted to go on a mommy/daughter date. The boys stayed at home for pizza and video games and we headed out on a little adventure.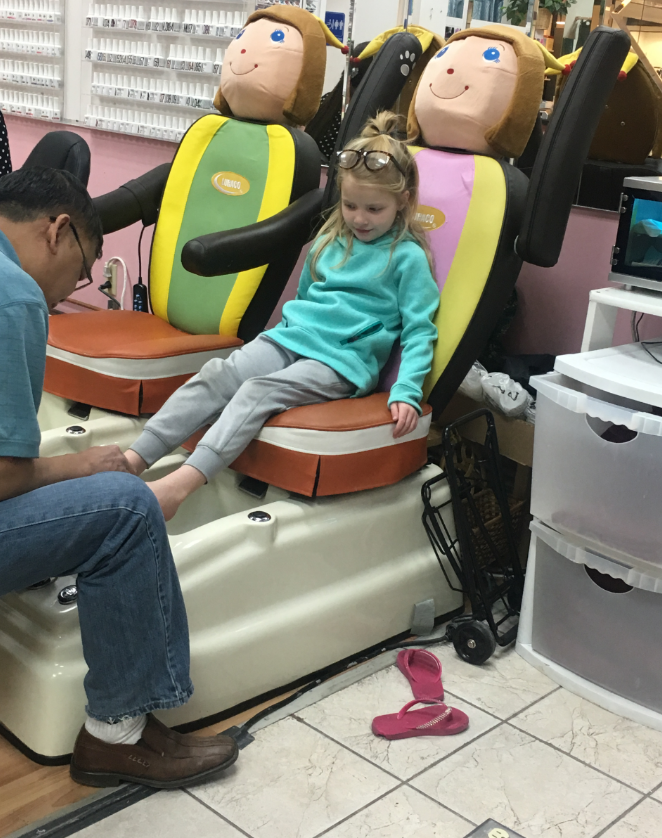 I let her choose dinner and while we waited for our food we worked frivolously on the picture search on the back of her menu. We played tic tac toe and talked about school without getting interrupted. Gosh, I miss my girl now that she's in full-time kindergarten! It was so fun to just be together, just the two of us.
Next, we headed to the mall where she wanted to go shopping, get our toes painted, sit in the massage chairs and get a cupcake. She means business! We looked around at some of her favorite stores and bought a few little things. I think she asked for about a million things, but she ended up with a mini hand sanitizer to hang from her backpack and a free unicorn keychain because I downloaded a store's app. It may have been girl's night, but that didn't mean it was a free for all!
We then headed to a nail salon where I had them just paint her toenails. She sat in a cute little chair and got her piggies painted pink with sparkles (of course) and they even added flowers on her big toes. It cost just $5 plus tip. So worth it!
Next, we put a few dollars in the massage chairs and relaxed (and giggled) while we people watched. Several groups of middle school girls walked by and I couldn't help to think that I was going to blink and that would be Ella walking through the mall with her friends. It made me cherish the time with my girl even more. We capped off our evening by splitting a cupcake - and by splitting I mean Ella eating all the frosting and me eating the cake. We are a perfect cupcake eating pair!
All weekend she was talking about how much fun she had and I couldn't agree more. We didn't do anything extravagant. In fact, we spent less than $30. But the memories are worth so much more. Can't wait to do it again!