Using credit intentionally is the key to rebuilding your credit after a bankruptcy.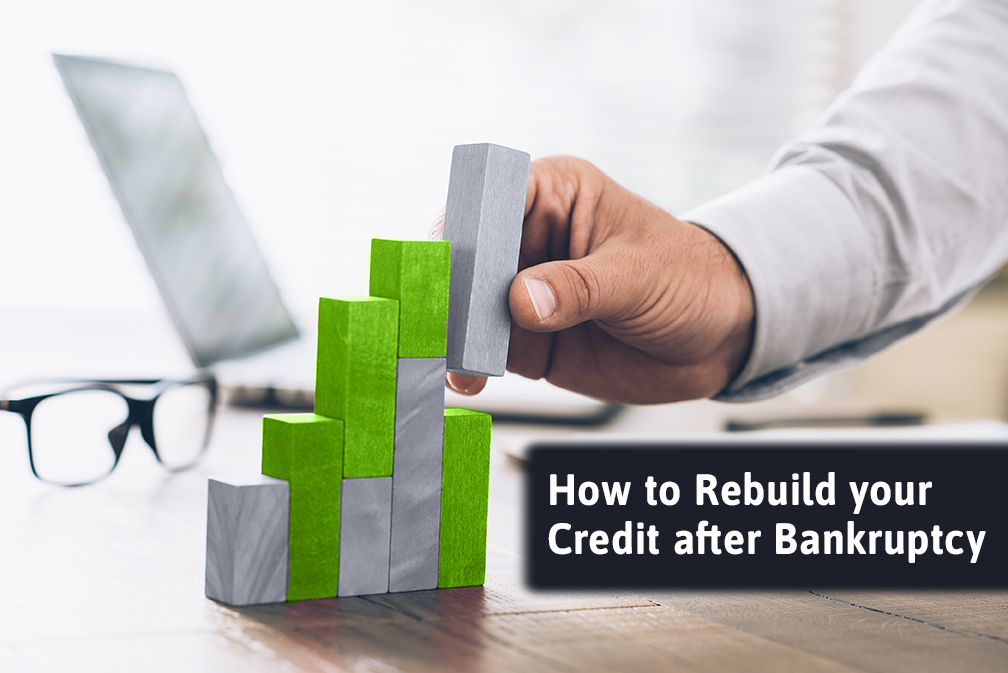 Filing for bankruptcy can give you a clean financial slate, but it can also be very challenging for your credit. Depending on the filing type your bankruptcy may stay on your credit report for up to 10 years; but that doesn't mean you can't begin rebuilding it now. Here are the four steps you should take to start rebuilding your credit after filing for bankruptcy.
1. Develop a habit of checking your credit reports
Checking your credit reports is a vital step for anyone looking to improve their credit, but it's even more important if you've gone through a bankruptcy. You can check each of your credit reports (with Transunion, Experian, and Equifax) for free at www.annualcreditreport.com. This is the only site where you can get your legitimate credit reports for free, ignore any other websites claiming they can given you this information. Normally you can check them once per year for free from each reporting agency, but because of the COVID-19 Pandemic you can access them weekly up until April 20th 2022. Start a habit of doing regular checkups on your credit; you'll be glad you did!
2. Dispute incorrect information on your credit reports
Many people don't realize that about 33% of Americans have an error on their credit report; in some cases, your credit score may be lower because of that error. If you find an error on your credit report you need to dispute it directly with each of the credit bureaus. You can do that directly through their websites at the following links:
3. Reflect on what caused you to file for bankruptcy in the first place
The most common reason that most people file for bankruptcy is due to medical expenses and debt, which in many instances is outside of our control. However, if financial choices led to you becoming overleveraged and unable to keep up with your debts, reflect on what you want to do differently moving forward. Learning from our past decisions can help us set up for future financial success. If you need help developing a financial plan, one of our certified financial coaches can help you establish a budget and put together a plan to rebuild your credit.
4. Find the right credit product to rebuild your credit
Getting access to a loan or credit card after a bankruptcy can be very challenging; some lenders won't even consider loaning to someone until their bankruptcy has been discharged for 6-12 months. At Canopy Credit Union, we have a flexible lending philosophy that may help you get access to credit sooner. We have products that are designed to help our members build their credit.
Our VISA Classic credit card offers a low rate, has no annual fee, can help you rebuild your credit, and offers a secured or unsecured card option. A secured card is backed by a deposit you pay and your limit will be equal to that deposit. Your deposit is held until you establish a positive payment history (normally about 6 months) and then you can request that we release the deposit back to you and the card. You can access a secured card with a deposit as low as $100. Whether or not your card has to be secured depends on the circumstances of your bankruptcy. Apply now to start your VISA Classic credit card application (apply now button)
Our savings secured loan allows you to borrow against money you already have on deposit. There is no credit check required, it offers a very low rate, and can be an excellent tool to rebuild your credit. If you'd like to start the application process, contact us here.
If you need to finance a car, truck or SUV you may need a co-signer with good credit history who is willing to help you purchase a vehicle. A co-signer is equally responsible for the vehicle loan, so make sure you ask someone who is willing to help and understand if you are unable to pay on the loan their credit score will be impacted.
If you'd like to speak to someone about forming a plan to rebuild your credit, connect with one of our certified financial coaches today. The service is free, and you don't have to be a member to meet with one of our coaches. Take the next step and fill out our financial coaching intake form here, you'll be well on your way to rebuilding your credit after your bankruptcy.