Canopy Credit Union is a unique place.
We believe that a person's story matters more than their credit score. We believe in the power of educating and equipping members in order to guide them to financial wellness. We believe that providing unmatched, personal service paired with the best in technology helps members meet all their banking needs.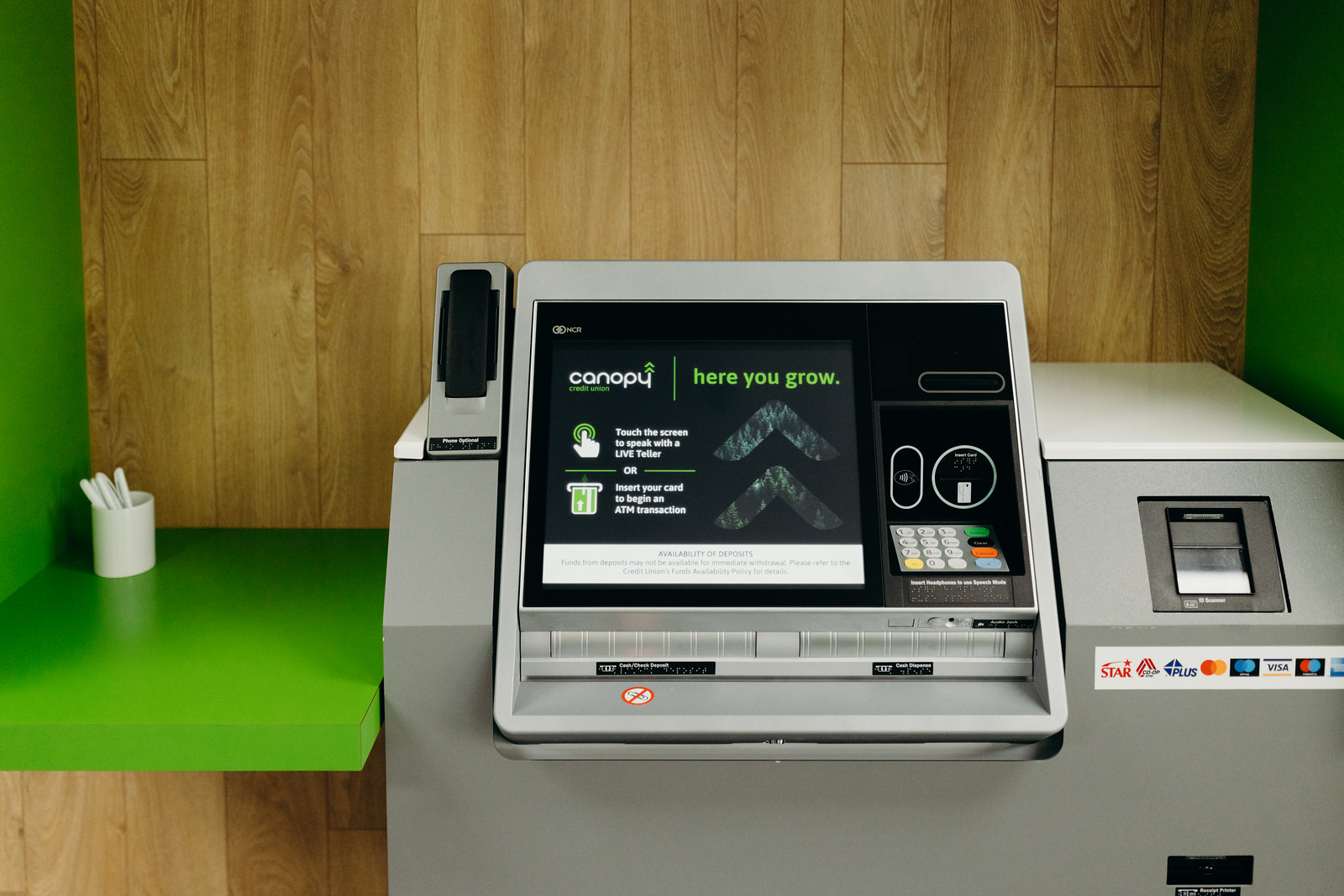 At Canopy, one of our priorities is to always be looking for opportunities to better serve our members. In today's world, that often comes down to providing the best technology.
Over three years ago, we launched Teller Connect platform. In each of our branches and at our drive up location, you can interact with tellers in real time through our ITMs (Interactive Teller Machines). What at first glance may look like an ATM is actually a piece of technology that allows you to quickly complete transactions, while still connecting face-to-face with Canopy employees.
What can ITMs do?
At an ITM, you can withdraw cash, deposit checks, make loan payments, transfer money, check your balances, and catch up with your favorite tellers.
Why does Canopy have ITMs?
With ITMs, we are able to extend our teller service hours and improve the speed of your transactions. ITMs in branches are open during regularly branch hours (9am-5pm M-F), and ITMs in drive up locations are ready for you to use from 8:30am-5:30pm M-F from the comfort of your vehicle. Outside of these hours, our ITMs in drive up locations work as typical ATMs. This allows you access to your money when you need it.
We are able to expand our reach to better serve you, our amazing members, with ITMs! Located at our downtown location, the Teller Connect Center is a real place where our tellers are working hard to meet your needs. Our small but mighty team is able to cover our three branch locations because of the flexibility of helping members at all three branches from one location. Technology is so cool!
Our hope is that ITMs are easy, convenient and fun to use. We understand though that they can be at times frustrating, and that is why a member advocate is located in each branch, ready to help you! Please let us know if you need assistance or would like a demonstration. Before you know it, you will be an ITM pro!
At Canopy, it is our goal to provide the best service to you. ITMs allow us to do that and will continue to help us – and more importantly YOU – grow!