Feel like the holidays snuck up on you again? For most people, this time of year is a trigger to start racking up some hefty credit card charges to cover additional spending needs. But the hangover starts sooner than you think, and guess what? When January rolls around, you're facing a stack of bills and wondering how you're going to pay them off.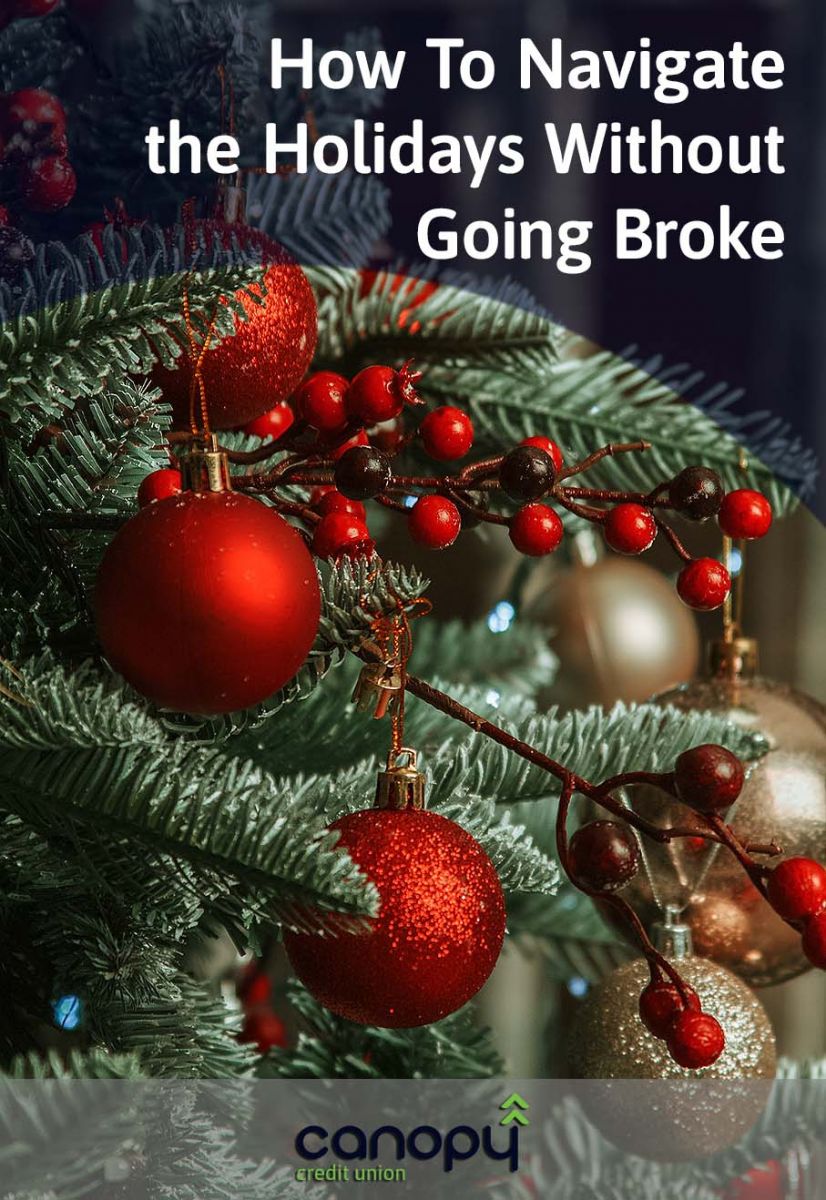 Let's get real
Money regrets often stem from a lack of long term planning. Getting started means getting real with yourself about what you can afford to spend and finding the easiest and most effective ways to save, budget and spend when the holidays finally arrive.
To begin, consider making small automatic deposits to your savings account every time you get paid or make a deposit. That way, when the holidays roll around, you can use your credit cards to rack up rewards points, knowing you already have funds set aside to pay those charges off. An easy and fun way to do this is by opening a Holiday Club savings account at Canopy. You can pick any amount up to $500 to be automatically deposited into your holiday savings fund each month. The funds will then be automatically sent to your checking account on November 1, just in time for your holiday shopping needs!
Make a list and check it twice
It sounds easy, but putting some effort into deciding who you're getting gifts for and assigning a spending limit to each of them puts you miles (and months) ahead when it comes time to go shopping.
There's no such thing as magic money
Don't spend money you don't have. Instead of thinking of your credit card as free money, think of it as a smarter way to spend the money you already have. Never charge more than you can pay off when the bill comes due. Treat your credit card like a debit card that pulls the money out of your account once a month. Truth be told, your family or friends probably don't want you to go into credit card debt to buy them a gift.
Get creative
Some gifts can be shared by several people in your family. Think about subscriptions to your favorite streaming service or a yearlong membership in the Bacon of the Month Club (yes, it's real.)
Consider exchanging names for a gift exchange so you're only obligated to buy one gift versus something for every person on your list. Secret Santa exchanges are also popular. Handmade crafts and DIY gifts, as well as home cooked meals and treats can also be a welcome change from the usual gifts we've all received in the past.
Consider a theme that reflects your values and delights your family and friends
When thinking about how to approach each person (or pet) on your list here's a simple mantra that works for a lot of people – find something they want, something they need, something to wear, and something to read. Use this frame to start thinking about gifts that will please everyone on your list.
Talk to us
Reach out to our member services team for help in setting up an automatic deduction for your holiday savings account, today. We're standing by to help.